Hitting the road to Derby
Having arrived in Broome late the previous day, the 4.30am alarm didn't feel so painful as my mind was still on east coast time. We hit the road for a two hour drive north east along Savannah Way to Derby. Distances in the Kimberley are huge and locals don't think twice about covering a few hundred kilometre's before breakfast. We were welcomed by a beautiful Kimberley sunrise that looked like a painting of every hue of yellow and orange one could possibly imagine.
Chopper to Blina Station
Arriving at Derby airport we met with John French the Chief pilot and head of operations from KAS Helicopters, known to all and sundry in this part of the world as Frenchy. Everyone knows Frenchy and his team of Helicopters are one of the only sensible modes of transport when you have a days work to do and a few thousand kms to travel. Whether it is mustering, doing controlled burns, checking your fences or stock…most properties have a Robinson 22 or Robinson 44 on the job and if they don't, or when they need one more…Frenchy is your man! Thankfully for us we get the luxury of a Bell LongRanger for the day as we have three people and a mountain of gear to get out to watering points at Blina Station and Noonkanbah. A lot less agile than the preferred tool for mustering (The R22) we depart Derby into a fresh easterly and head out into the Kimberley morning for Blina some 120kms to the East South East as the chopper flies.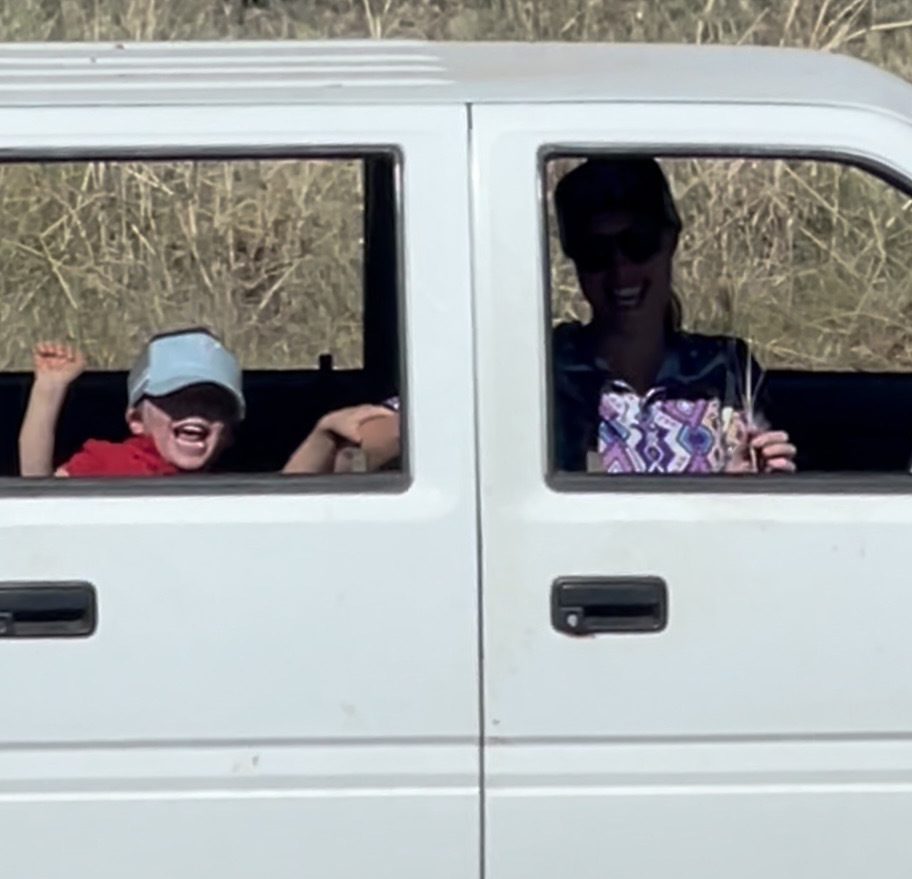 Upon landing at Blina we are greeted by Connie Wood and her son Harrison who at 3 years of age is full of bush confidence and hospitality. Walking straight towards us with a big smile and an intent stride he puts his small but welcoming hand out…
"Hi I'm Harrison …what's your name ?" …" Are you here to see my dad?".
Connie goes on to tell us that husband Matt is on a call negotiating some pricing and will be with us soon…and that she's got her hands full with the team out mustering, two kids in tow and another on the way. No challenge too hard for these long term Kimberley Managers of Jumbucks pastorals Blina Station.
Matt arrives a few minutes later and after a quick overview of how things are travelling and the excitement of the families imminent move to Wave Hill, a huge opportunity and challenge for a young family, we are airborne again and heading for two far off watering points to inspect water and some Farmbot devices. On the way Matt recounts to us that the challenges of distance and water management are an ever present grind on a cattleman's nerves and conscience. I find myself considering the subliminal thoughts of everyday life for a manager on vast cattle properties like Blina running 24000 head across 90 watering points using circa 1 million litres of water a day …"Do my stock have enough water", " is everything that I can't see ok", " is there a beast stuck in a trough", "are all my floats intact" … the incessant list of worries about water goes on as the 38 degree days roll on with little rain or relief from April to October.
Arriving at Billy's Bore the ground beneath us is lush as compared to the dust bowl we encountered some two years earlier. The Kimberley was blessed with solid rains through the wet season and as such is enjoying a few full waterholes, green grass and an abundance of bird life who have been ruffled by the arrival of our big bird. The old Mark 5 Farmbot Monitor stands vigilant on the side of the tank as it has for some four years prior. Little does it know its about to sent off to a new home as we replace it with a new Mark 7 monitor for even better reporting and functionality.
As we make some of the most routine inspections of the trough, floats and bore the herd of some 300 cattle muse around under nearby trees a little bewildered with this intrusion on their water. We get set up to remove the old monitor and replace it with the latest technology from Farmbot as Paul Bell (Bell -e) our friendly Kimberley videographer sets up to shoot some footage of Matt going about his business and revisit the earlier commission of our equipment to see what's new.
"I reckon I'm getting an extra three days between physical checks and the peace of mind of knowing whats happening is simply awesome " says Matt. "I'd be surprised if most operators couldn't save at least one or two FTE (full time employees) when they get serious about deploying Farmbot on their waters – we think that's a bloody good win too!"
Transit to Adrian's
Having upgraded our old monitor we take off in a swirl of leaves and dust heading for Adrian's Tank – another of Blina's more remote watering points to install another new monitor and one of our newly launched Farmbot Cameras. Matt was instrumental in helping us think through the needs of camera monitoring on remote watering points so we are about to bring a few years of conversations, R&D and refinement to reality for him. Key to Matt's thinking and our innovation was being able to take images on demand to keep an eye on troughs, gates and other station infrastructure when you need to. Having data points, trend charts and real-time alerts is all very empowering for Farmbot customers – but what reassurance would they get with real-time imagery via satellite direct to their phone when they need it – we were all about to find out!

Across the vast landscape we hone in on Adrian's tank and Frenchy finds a good place to set down. Again a small mob of cattle make way for our dust and saunter a little bewildered amongst the trees as we approach the tank, a custom-built 90,000 Lit tank build by Pioneer Water Tanks especially for Jumbuck. Matt explains that there's almost been a little too much water on the ground in some parts and they prefer more controlled watering for the most part as it allows for better management and monitoring of the herd. Matt's long strides toward the tank are, like his days and work program, full of purpose and intent with little time to waste. Before we know it he's getting the monitor out of the box and drill in hand starts mounting it on the Northern side of the tank, fortuitously facing the sun for the good of our Farmbots solar panel and the trough that he would like to keep an eye on. Matt carefully lines up the camera with the sight gauge and within less than 15 minutes has installed the monitor and camera and we are heading off again. While the new camera will take 10-15 minutes to commission itself, we don't have time to waste so we await the first image from Adrian's as we head back towards Blina homestead.
Stockmans Hospitality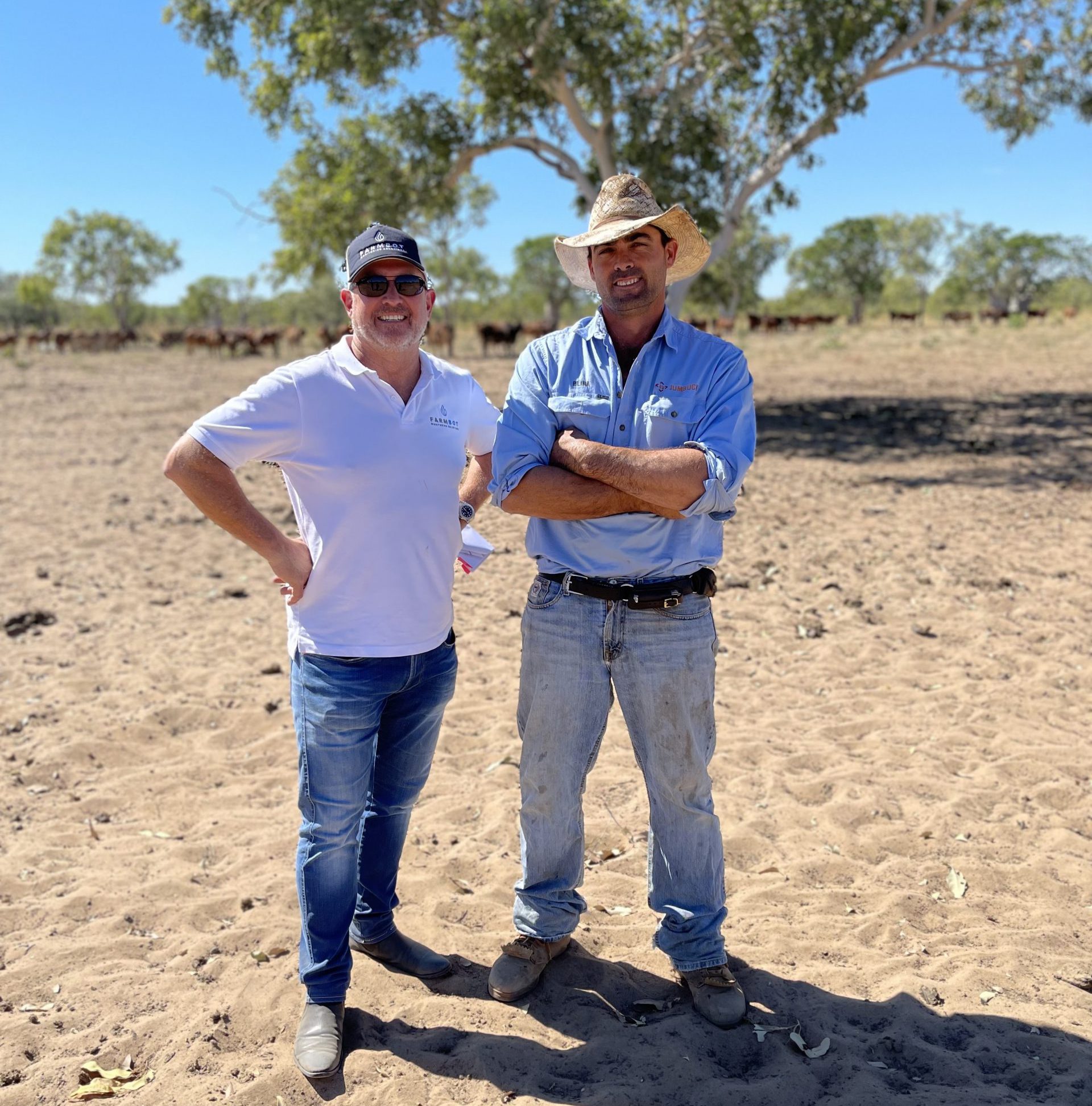 Whilst giving us a very informative update on local shire rates and native title issues on the way back to his sanctuary, Matt openly shares his excitement about the future of the Northern Beef cattle sector which after many years is having its day in the sun.
"Great to see strong prices for us and all the operators up here Andrew. We all work hard and have endured some tough years so it's not before its time that we have a good run. How about you fellas come and join us for a bite of lunch before you head off as I've asked the cook to put on a few extra steaks for you!"
…its an opportunity too good to pass up…as Matt adds…
"We're cooking up one of the neighbour's cows today so you can let Kurt know when you see him that his steaks are pretty good"
…it's a running joke in the Kimberley that you're always eating your neighbours beef!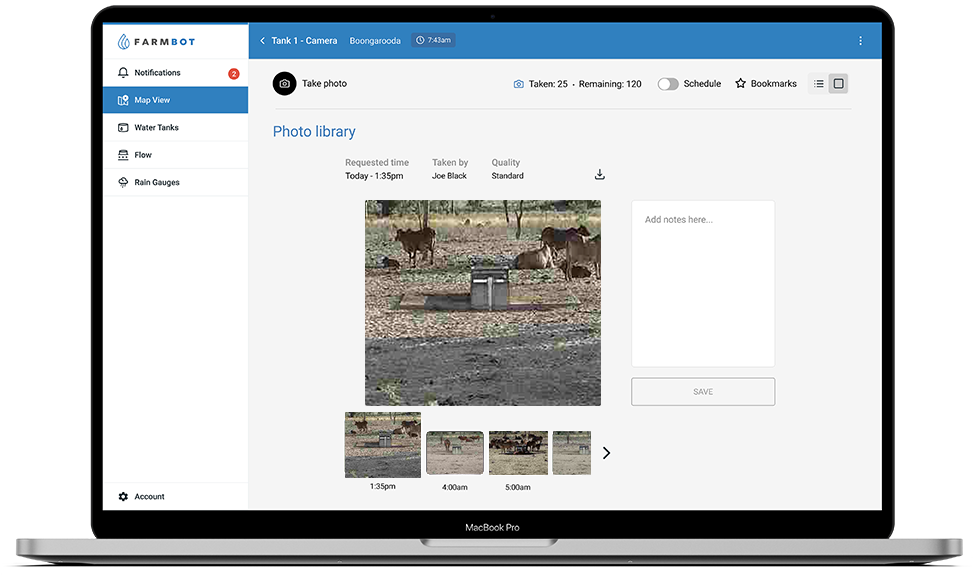 After more good chat over lunch, meeting some of the crew and the boreman, who are all impeccably polite to us and respectful of Matts leadership, our visit to Blina comes to a successful end as we share the first of many photos from Adrian's tank new Farmbot Camera with Matt before wishing him well for a great end the season and hopes that we will see him next year at his new abode at Wave Hill. Next stop – Nookanbah Station!