Introducing Remote Pump Control
At Farmbot, we understand how hard you work to keep your operations running smoothly. We know that for farmers, every minute and dollar counts.
That's why we've developed a top-notch water monitoring solution to help you save time, money, and fuel that you'd otherwise spend travelling to check water points. But we wanted to take it a step further, so we're excited to announce our latest feature, based on popular demand from our Farmbot community: Remote Pump Control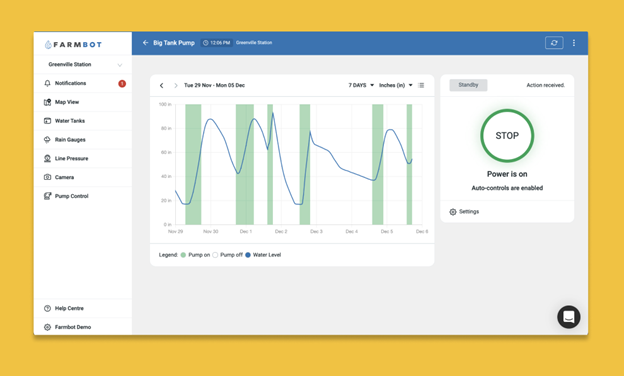 We heard your calls to control your pumps with just a click, and we rose to the challenge. We didn't want to offer just another timer system; we wanted to give you full visibility and control. So, here's what we've come up with:
Here's what we came up with:
Turn your pump on or off with a simple click, from anywhere in the world.
Precision pumping: automate your pump based on your tank's exact water levels. No more guesswork or overflowing tanks.
Set time-based restrictions with Pump Operating Periods to fill your tanks only during certain times of day. For example, off-peak power times to avoid bill-shock.
Leverage your existing Farmbot infrastructure for actionable insights and automation.
Choose from three versions, compatible with any power source: single-phase or three-phase mains, fuel or solar-powered pumps.
Stay informed with notifications when your pumps turn on and off.
The Benefits
Why invest in Remote Pump Control, you ask? Let's crunch some numbers.
If you drive out to your pumps just twice a month, and they're 50 km away, that's 100 km and 70** minutes round trip. With current fuel prices, that adds up to $392* and 28** hours per year. For bigger stations with pumps 420 km away, that's a whopping $3,295* and 108** hours annually!
Imagine replacing all that time, effort, and expense spent on driving to your pumps with a smart, automated solution. That's precisely what Farmbot's Pump Control offers. Our innovative system takes the guesswork out of managing your pumps by automating the process, turning them on and off exactly when your tanks require it.
What truly sets Farmbot's Pump Control apart is the freedom and peace of mind it brings to your daily operations. With the ability to check the status of your pump anytime, anywhere, you can stay informed and in control without the need for time-consuming site visits. Our system also notifies you and your team when the pump starts or stops or if there is an issue, ensuring you're always in the loop.
*Based on Fuel Consumption (Combined Average) of 7.9 L/100km and Diesel Price of $2.069/L
**Assuming a typical driving speed of around 80-90 km/h on a well-maintained country road with no significant traffic or weather issues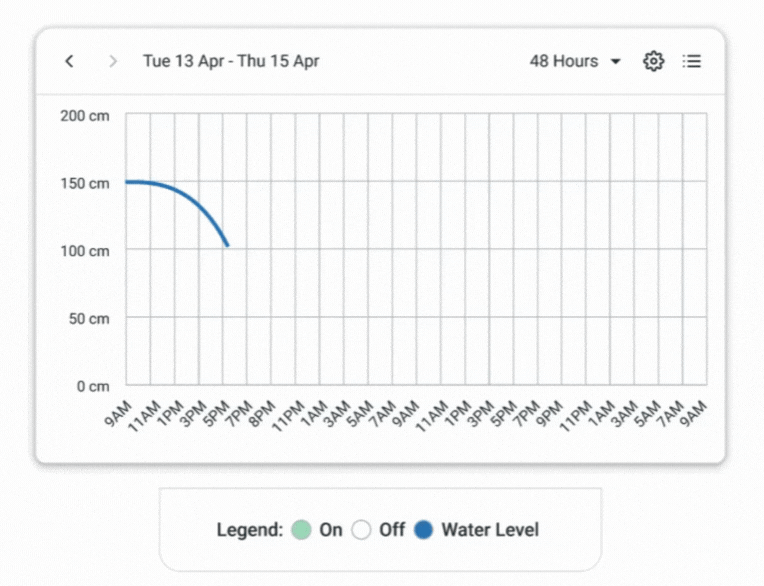 Tackling Pump Compatibility
One of the main challenges we faced while building our pump control solution was the sheer variety of pumps in the market, ranging from mains power (single-phase and three-phase) to fuel or solar-powered pumps. We wanted to create a plug-and-play solution, just like our other products, without requiring extensive new infrastructure. But how could we design a solution that would cater to the majority?
Our dedicated team worked closely with our customers and developed three versions of the Farmbot Pump Control to ensure compatibility with a wide range of makes and models. To make it even easier for you to determine the right version for your specific pump, we've created a handy Compatibility Quiz to quickly discover which Farmbot Pump Control system is the perfect fit for your needs. Learn more
A huge thank you to our Farmbot customers for their invaluable help in bringing this solution to life!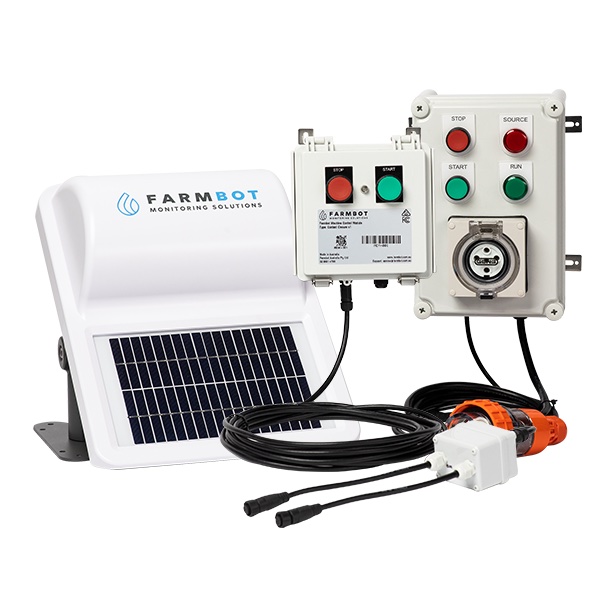 Upgrade to Farmbot's Pump Control System
With our innovative solution, you can manage your pumps remotely, giving you the freedom and flexibility to focus on what really matters.
Our team is here to help you every step of the way. You can reach out to us via 02 9030 4760 or sales@farmbot.com.au, and we'll be more than happy to answer any questions or provide assistance.
Not sure if your pump is compatible with our system? No worries! Our Water Experts can answer any of your questions or we can send you our Pump Compatibility Quiz.
Don't wait any longer – take control of your pumps with Farmbot's Remote Pump Control. Contact us today to get started on the path to greater efficiency and peace of mind in managing your pumps.
So, let's get pumping!