To celebrate International Day of Rural Women, we had a chat to Kerryn Piggott and Candice Krebs, two inspiring women from rural Australia. We found out their tips for women juggling life on the land, and just how technology is helping them on their respective properties.
Kerryn Piggott- Christmas Creek, Central Qld
Where are you from and what type of property do you run?
Kerryn Piggott and her family run two properties, Christmas Creek and Fairhaven, located 40km from Rolleston in Central Queensland at the "gateway to the Carnarvon National Park". The properties combined make up 20,000 ha of open ranged native grasslands. Cattle are bred on Christmas Creek and are finished next door at Fairhaven, which is predominantly improved pastures.
Have you always been on the land and what is it you love about it?
Kerryn grew up not far from Rockhampton, often "playing with cows" at her grandparents' dairy farms in the region, even from a young age Kerryn "always had an affinity with cattle".
Following a stint in the mining industry, Kerryn then moved to Rolleston with her husband, where they have run their business for the past 35 years.
"What I love about living here and running our business is the freedom it gives you to make your own choices. That is apart from when the weather makes them for you of course!"
Kerryn is passionate about the lifestyle she experiences living on the land "you're your own boss"– and despite being over two hours from the nearest Coles or Woolies, in Emerald or Roma, she wouldn't have it any other way. "Living here we do probably give up things that other people expect in their lives" she says "but I think there's a definite payoff- we have a much more 'earthing' life – that, take your shoes off and put your feet in the grass type of feeling". Kerryn revels in this connection with the land, and wouldn't have it any other way.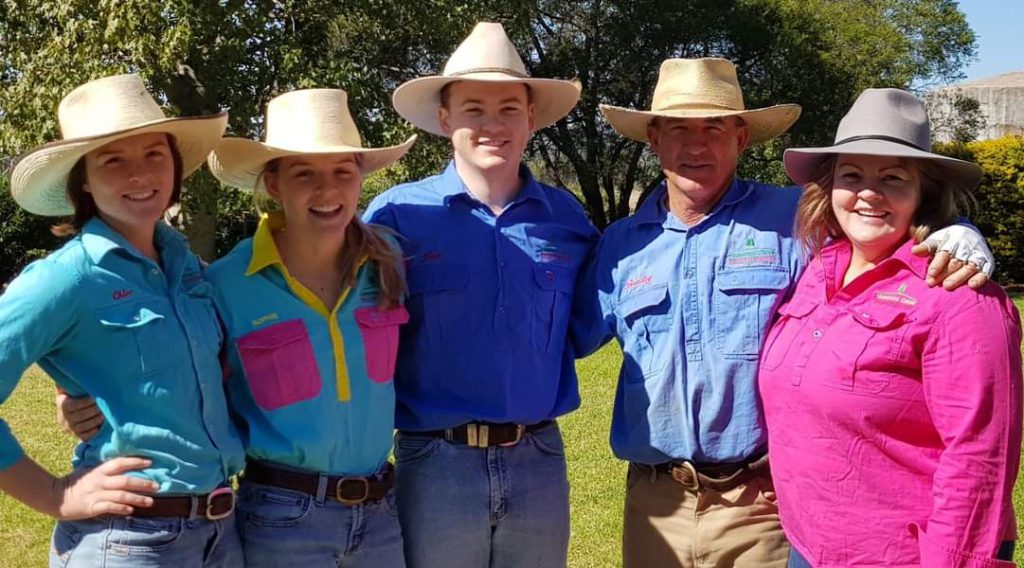 Number one tip for women juggling life on the land.
"Be kind to yourself and ask for help", that's Kerryn's number one tip for women juggling life on the land.
Having been a young mother juggling homeschooling and running a business all while keeping the homestead running, Kerryn knows all too well that sometimes you just need to ask for help. While admitting this can be challenging in the bush, for Kerryn, it's all about prioritising what is important to take care of your holistic health. "For me it's getting someone in to help around the house so I don't die of dust inhalation" she laughs, "if the house isn't working properly, chances are things aren't getting done outside either!"
"Women don't always receive the recognition for all the hats they wear… we don't put our hands up and take credit for being the glue that quite often binds it all together" Kerryn says, and being able to rely on others for help is an important part of making sure all the hats fit and the glue works.
As a multiple hat wearer herself, including being treasurer of the local health committee, dedicated tennis club member, all while helping in the running of their business, Kerryn says that the support from their local community is great. "We are lucky to have Rolleston 40km away, it's a good tight knit community" Kerryn says, "the community supports one another", with such social interactions often being a sounding board for women that may find it difficult to ask for help in the bush. "Just realising you can't do everything all of the time is really important" Kerryn concludes "and it's ok to ask for help".
Technology is driving a new era of connectivity in the bush. What are the benefits you have seen?
"I love technology!" Kerryn exclaimed when asked about the benefits of connectivity in the bush.
"The biggest hurdle for us was our internet connection and now that we have two way satellite through the NBN we have introduced many new technologies". Such technologies so far have included new accounting softwares, Agriwebb management tools, Farmbot water monitoring solutions, Cibolab dry matter measurement tools and soon they will also use Ceres tags, to track their high value bulls. "All of these activities were time consuming beforehand and all on paper, now all our information is collected in one place" Kerryn said, saying that the ability to "streamline your business is so beneficial". These tools have assisted in aiding management decisions on the two properties, as well as on saving time and money.
"Having digital records and snapshots of our business is so important." Kerryn says.
"One of the best things we have done is introducing Agriwebb and plugging in our Farmbot system into it. Having records, particularly rainfall data, on hand is something I really love" Kerryn explained, "Last week we recorded 25mm at our top yards. They are 15km from the homestead, so being able to get this data so easily is really handy".
Kerryn believes the use of agtech has been untapped in Australia for a long time, saying that while she still has a lot to learn "you've got to be open to educating yourself and be sure to keep abreast of the options available to get the benefits for your place".
Candice Krebs- Ambalindum, Central Australia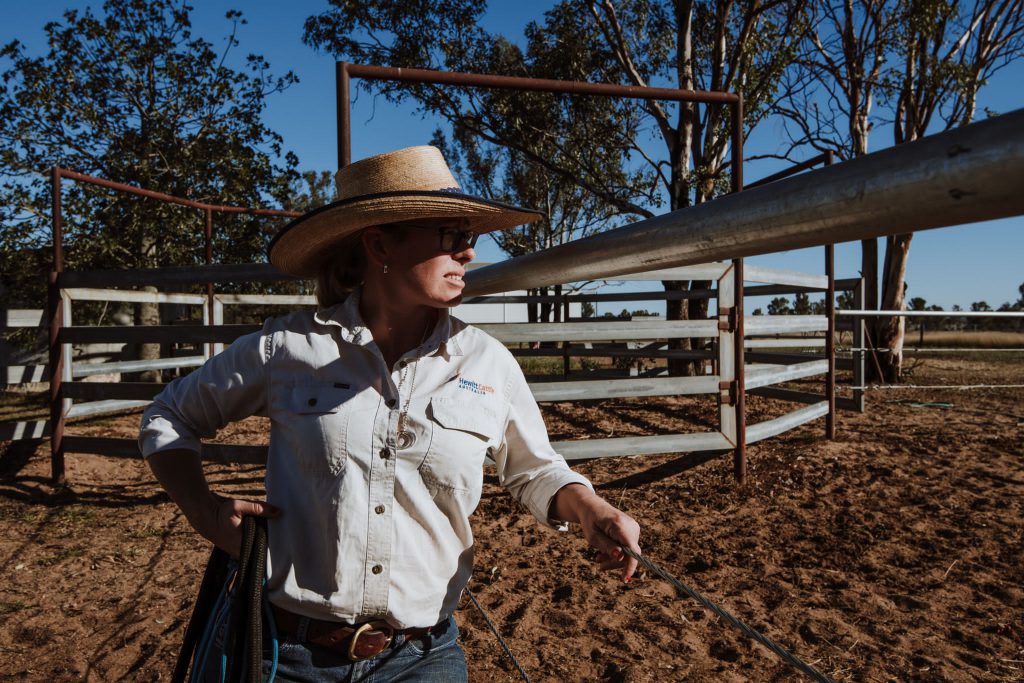 Where are you from and what type of property do you run?
Candice Krebs lives in Central Australia, 130km East of Alice Springs, in the East MacDonnell Ranges. Here she is involved in the running of two properties, Ambalindum and Numery, with some extra lease country in the Simpson Desert. The aggregation covers 1.8 million acres and is an organic beef operation, with 20,000 head of cattle.
Have you always been on the land and what is it you love about it?
Candice hasn't always been on the land. Growing up on the NSW Central Coast, and raised by an Australian Champion Surfer, she was a self confessed "beach bum". But this beach girl had a passion for horses, with this passion leading her to completing her Certificate 4 in horsemanship at Longreach Pastoral College before deciding she wanted to try her hand at campdrafting. "I knew nothing about cattle", Candice says, so she packed up her things and headed off to work on a cattle station and has been "working in the beef industry ever since".
When asked about what it was that brought her to the bush and has kept her here, apart from her love of horses, Candice has no hesitation, "It's the wide open space and the fresh air for me. Plus being able to look after the animals – I've always loved that". Candice has recently been running the waters of the Ambalindum aggregation and says that getting out and about on the property and seeing the cattle at a certain water point, and recognising them and their calves growing up and visiting the same point is something really special.
Number one tip for women juggling life on the land.
When asked for her number one tip for women juggling life on land, Candice answered with a laugh, "That is a question I have not found an answer to… I wish there was an answer but I just don't think there is!"
"I think you just need to figure out what works for you and stick to it. Don't let yourself get too stressed out about things you can't change. If you can't change it, try to find the best solution to work around the problem. If you can change it, then do your best to do so. Being flexible is also a trait you need when working on the land."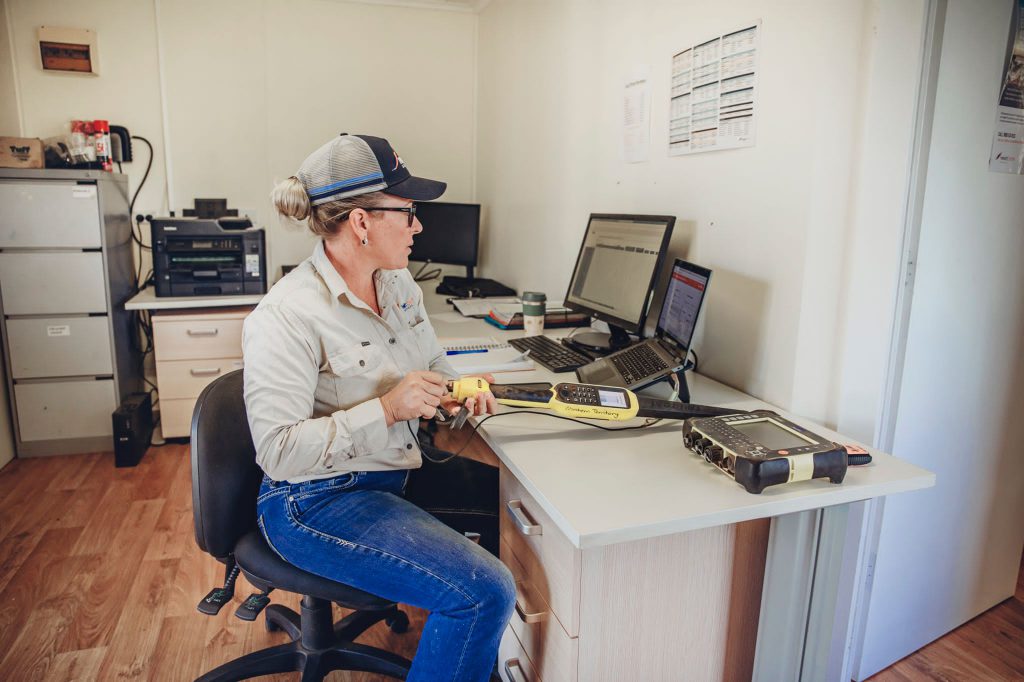 Technology is driving a new era of connectivity in the bush. What are the benefits you have seen?
Technology has proven to be a huge timesaver for Candice and her team. Not only saving time it takes to do tasks, but also the amount of physical stress that is placed on the body. "Things like pneumatic cradles make it a lot easier on your body" making each team member's work not only time efficient, but safer too.
"Tools such as digital water monitoring have also been a huge time saver" Candice says, "by checking Farmbot before leaving the house, we are able to better plan our days. We could find out about a problem at a water point that we hadn't planned to visit until 5pm that night, and by checking Farmbot, we can be there at 7am, before it becomes a bigger problem".
With over 70 Water Level Monitors installed across the aggregation, Candice also credits the extra insights they are able to collect as a massive positive. "We can now see when the cattle are watering and at what times throughout the week."
Having this constant stream of data is a massive labour saving tool. You can see "what is happening, and where" all from the homestead. This is particularly important, when finding staff can at times be an issue.
"Central Australia is so underrated," she said, "a lot of people don't realise what they are missing out on- the country down here is pretty spectacular and grows some pretty amazing beef too." Technology is helping to fill this slight gap in staff, by saving Candice and the team time elsewhere.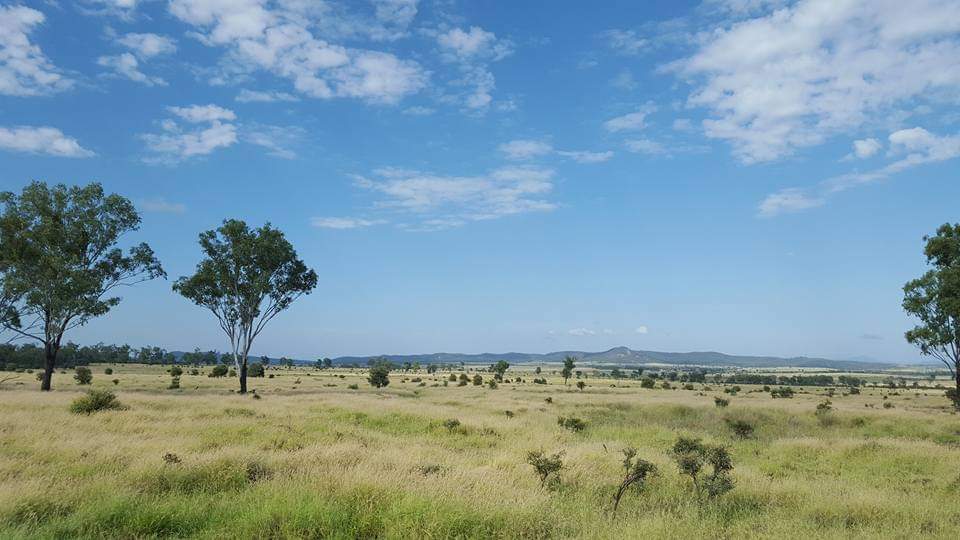 Photo credit for images of Candice Krebs: Meraki Portraiture and Jessica Howard