Know your farm's eco-system
Farmbot's range of farm monitors
Water monitoring doesn't end with storage levels and rainfall
– it's an entire ecosystem of equipment, staff and resources.
Knowing your Farm Ecosystem means improved
productivity and increased profitability
Our farm monitors keep you informed on:
Staff safety
Equipment condition
Infrastructure health
Water Flow Monitor
The Farmbot flow monitor is an integrated water-level and flow monitoring solution that provides supply and demand data to help prevent water loss. It offers near real-time water level and aggregate flow data for up to three outbound lines. It can work with a wide range of standard water meters and like all farmbot monitors, it is self-install for immediate operational use.
Provides accurate flow rates from pumps, bores and tank inlets or outlets
Utilises any flow meter that provides a pulse output (ARAD, WaterFlux etc.)
Provides aggregate water flow and total volume information in litres
Provides detailed flow history to help you better understand daily and seasonal water demand and supply
Provides SMS and email alerts in case of excessive flow rates
Will support an optional rain gauge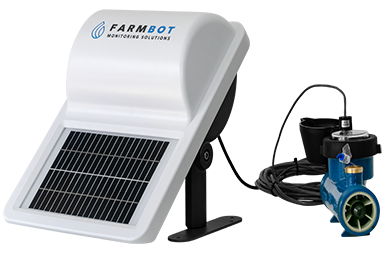 Water Pressure Monitor
The Farrmbot pressure monitor provides insights into pressure levels and changes in any line. This enables a better understanding of water pumps, controllers, valves and the overall reticulation system. It also allows for the early detection of faults, problems and impending failures.
Can monitor any line (water, gas, and other liquid) up to 2500 KPA / 25 Bar in standard form.
Other pressure ranges can be provided on request
Provides timely warnings of unexpected pressure changes
Provides detailed line pressure history to help better manage system performance and problem determination
Provide up to 64 data points a day for the satellite version and 128 per day for the cellular (4G) version
Supports an optional rain gauge
Safety Monitor
The integrated water level and safety monitor ensures you and your staff are safe around the property. Provides accurate records of all site visits with an emergency alert facility.
Records date and time of staff site visit
SOS alarm for immediate distress alert (via Satellite or Cellular connection)
Provides SMS and email alerts of SOS events
Robust dust/ dirt/ water/ animal proof case
Supports an optional rain gauge
Pump control, electric fence and camera monitors – coming soon
Want to be informed when this product becomes available? Enter your details to be the first to know.
Learn about our other monitoring solutions
You know you're in good hands
Contact us
Fill in the form below, give us a call or send us an email.